We are happy to introduce, The Varsity Club, The Schoolhouse Hotel's flagship restaurant, featuring upscale southern classics such as crab cakes with lobster corn chowder, bourbon glaze pork chops, and shrimp and grits. This venue can seat over eighty people and features a full bar, serving creative cocktails, an exciting wine list, local brews, and more. Tufted leather banquettes and lively plaid fabrics create a timeless environment where guests can enjoy everything from grilled ribeyes to house-made salads and she-crab soup.
Sign up to our newsletter to be among the first to see our new menu, which we will unveil in the next couple of weeks!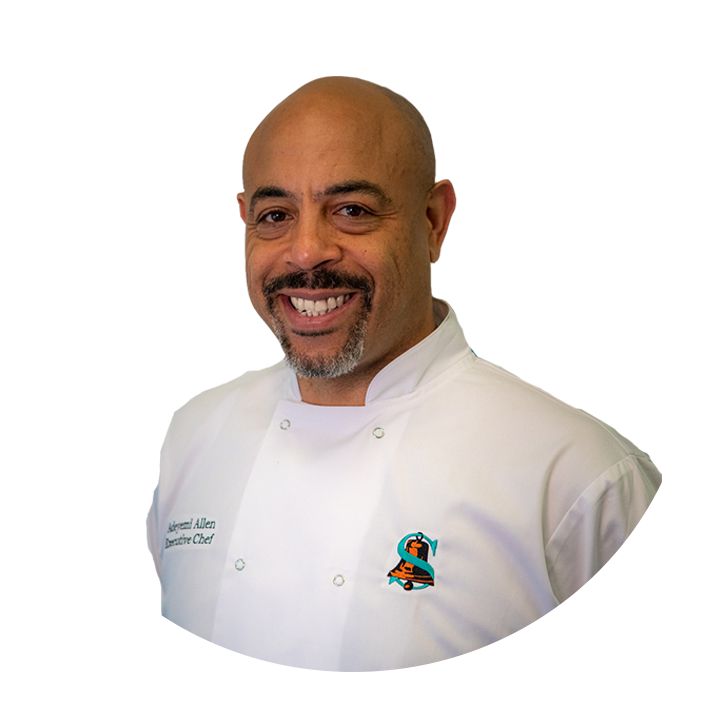 Meet The Schoolhouse Hotel's Executive Chef, Adeyemi Allen
The Schoolhouse Hotel is thrilled to announce the newest member of our team, Executive Chef Adeyemi "Day Day" Allen. Chef Allen comes to White Sulphur Springs via the popular Ballantyne Luxury Hotel in Charlotte, N.C., where he has served as the Executive Banquet Chef since 2018. Chef Allen is no stranger to White Sulphur Springs or The Schoolhouse Hotel. He walked the halls of the school as a student years ago, and graced its basketball court in league games. He is also worked under Chef Peter Timmins at The Greenbrier and served as Lead Chef at The Greenbrier for four years.
"Working at The Greenbrier and other upscale hotels taught me a lot about hospitality and food service needs," says Allen. "Things like learning what guests like or need before they arrive, always addressing them by name, and building a portfolio around that guest—those are the things that will take us to the next level and make everyone feel welcomed at The Schoolhouse Hotel."
Chef Allen says that when his mother passed away a few years ago, he left the region while most of his siblings stayed somewhat close. When the opportunity to open The Schoolhouse Hotel came along, he decided it was time to come back.
"I prayed on it and it just felt right," he says. "After touring the place, it brought back a lot of memories. I feel very blessed to have this opportunity to come home and do some exciting things with this hotel." Chef Allen says that guests should expect an upscale southern approach to his menu. "We will have something that pleases everyone. But if it's a burger or steak you're ordering, it's going to be the best burger or steak around!"