Former school building transformed into boutique hotel designed for accessibility.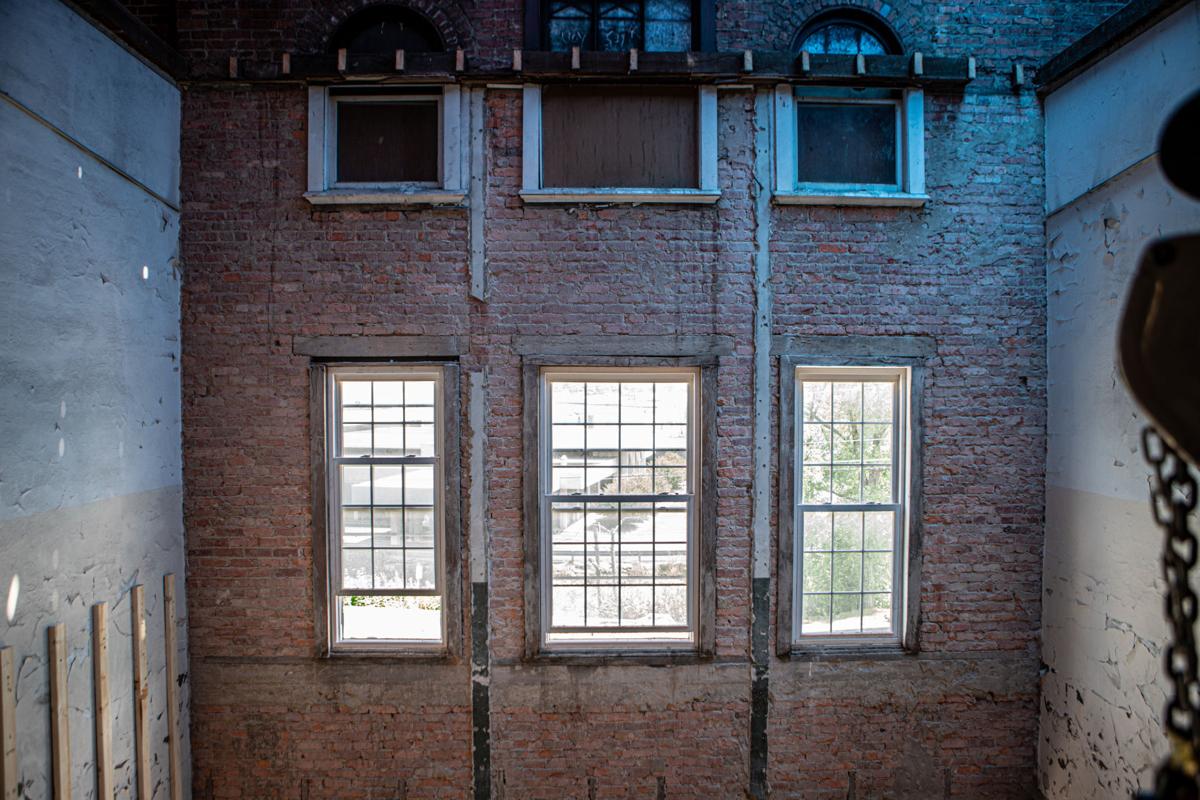 When the brand new White Sulphur Springs High School first opened its doors back in 1912, supporters saw it as a project that "elevates the tone of a community," according to news reports at the time. Today, more than a century later, that's exactly what developers hope it will do again, when the doors to the old school open for business as The Schoolhouse Hotel.

"We're looking towards a March 1 opening," said Genny Freiman, a project manager for the Disability Opportunity Fund, which now owns the building. "Throughout the hotel, you'll really see a flare of school items. So our restaurant is the Varsity Club, and every single one of our rooms is named after a school subject."

Genny Freiman works with the design team for the new Schoolhouse Hotel. It will serve as a wedding venue and conference center as well as a boutique hotel. Designed as a boutique hotel, wedding venue and conference space, The Schoolhouse Hotel will have 28 guest rooms and two suites along with a business center and rooftop bar overlooking downtown White Sulphur Springs. "Every room is a little different, and the school subjects sort of helped us guide ourselves as we designed the rooms. So that's an exciting feature that we're looking forward to, people being able to see the little ways that we're bringing the school back to life, but in hotel form," Freiman said.
The New York-based DOF is bankrolled through the U.S. Treasury Department's Community Development Financial Institutions (CDFI) fund as well as financial institutions, private investors and grants. It was co-founded in 2007 by Freiman's parents, Charlie Hammerman and Nanci Freiman, to increase access to housing and services for people with disabilities. It purchased the old building — and several blocks of others nearby — following their visit to the area in 2018.

"It started really with Charlie, who is the [Chief Executive Officer]. He spoke with people in the community, city officials, the Mayor, about what their vision was for that building. And they all said a hotel because there's no hotel within city limits and that's sort of where the dream came to life," said Freiman. "The disability flair to it is that every single room is completely accessible and every public space is completely accessible. So we're trying to change the thought behind disabilities, as well as showing hotels that this is a way to make a hotel." The individual rooms are bigger, but the differences between a standard hotel and one that is fully accessible aren't difficult, she said.
The Greenbrier Resort, while "right up the street," is a "completely different market," Freiman said. "We have the luxury of getting to know every single person that walks through the door on a personal level. And that is our goal, to really get to know all of our guests. And it's pretty simple. When it's not a big place, everyone gets to do everything and gets to know everybody."

They've already hired Executive Chef Adeyemi Allen, who worked under Chef Peter Timmins and served four years as lead chef at The Greenbrier before landing at the Ballantyne Luxury Hotel in Charlotte, North Carolina. Before all of that, he walked the halls of White Sulphur High School as a student and played league basketball on its court. Touring the place, he said, "brought back a lot of memories. I feel very blessed to have this opportunity to come home and do some exciting things with this hotel."
The Schoolhouse Hotel expects to hire a total of 40 employees by opening day.

"We were lucky to stumble upon a room of memorabilia when we took over the building, trophies and yearbooks, some really great stuff. So we've preserved, that all," said Freiman.
"And while we don't know exactly how everything is going to go back into the building, we have the mindset that it will — in one way or another — because the community is so tied to this building."

For more information on The Schoolhouse Hotel, visit the hotel's Facebook page, its website at www.theschoolhousehotelwv.com, or call 888-437-4223. The Schoolhouse Hotel is located at 125 Schoolhouse Way, White Sulphur Springs, West Virginia 24986.